Best Ways To Style Indigo For The Stylish Groom
Wedding wear for men has evolved hugely over the years, and designers and grooms alike have moved past conventional neutral colours like ivory and beige for outfits meant for all functions. In the midst of the menswear revolution, indigo has emerged as a clear winner — be it sherwanis, achkans, bandhgalas or even just the humble kurta. The rich blue shade is full bodied and easily paired with other hues, making it a go-to for modern grooms worldwide. Moreover, indigo is innately Indian with the history of the pigment being firmly rooted in the country, so it only makes sense that it be a part of our celebrations too.

Besides being a menswear trend for grooms, the colour is timeless and incredibly versatile. It's hard to go wrong with the blazing blue hue, especially for functions that happen in the night time. Incorporate it in your mehendi, sangeet, cocktail, and reception with ease, and if grooms are on the lookout for indigo pieces to invest in, we have the best curation of indigo outfits and accessories for your big day.
Quilted Sherwani by Sabysachi
If your objective is to emulate the grandiosity of emperors and kings on your wedding day, choose this quilted Sabyasachi sherwani. There is beauty in the simplicity of the piece, where the colour does the talking, along with subtle Ashoka buttons that make for a detail that catches the eye.

Grooms can wear this sherwani for the sangeet or reception, with a tonal shawl or complementary black safa to complete the look. Pops of gold in the borders and buttons enhance the full-bodied indigo hue just perfectly.
Textured Sherwani by Rajesh Pratap Singh
Move over traditional fabrics like silk and opt for beautiful khadi instead. Perfect for grooms who are having winter weddings, Rajesh Pratap Singh has masterfully created this decadent piece with luscious khadi, which provides a lovely texture to the outfit and sets it apart from the others.

The expanse of deep indigo textile is broken beautifully with iridescent marble buttons — a lovely modern touch — and a blazing red pocket square. The multicoloured buttons are a stroke of genius which adds playfulness to a serious outfit.
Embellished Deconstructed Sherwani by Kunal Rawal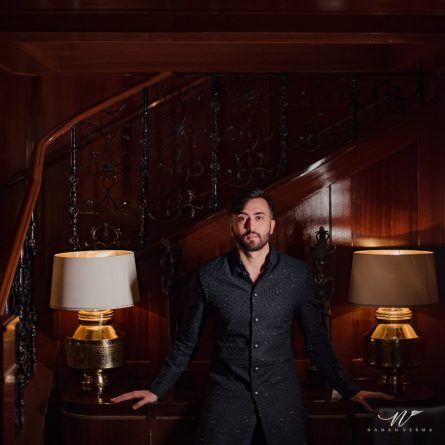 Ideal for a fun filled sangeet, grooms can don a sherwani which hinges on both modernity and tradition, and is infused with subtle elements for the keen eye to spot, just like this one. A shorter length and a relaxed fit makes this sherwani a hit with younger husbands-to-be.


This midnight blue deconstructed sherwani with dimensional thread work by Kunal Rawal is subtle but festive, with sophisticated tonal embellishment for the discerning groom. This is wedding styling that is minimal yet the right amount of fun for a night of shaking a leg.
Jacket & Kurta Set by Faraz Manan
For the groom who is also an art connoisseur, this layered Faraz Manan outfit is the first choice. With elements that borrow from the Art Deco style and plenty of fine thread work all over, this set keeps things fresh for the sangeet, and is a welcome change from the usual sherwanis.

Lately, the kurta has been in the limelight for its versatility — it can be dressed up or down according to the function. A heavier self-printed kurta like this one pairs extremely well with the embroidered shrug, and rich jacquard pants in ivory or indigo will complete this groom look.
Layered Sherwani by Falguni Shane Peacock
Taking a wedding trend and making it better, Falguni Shane Peacock's deep indigo sherwani look uses clever layering to make this sherwani look heavier, while actually keeping it light and comfortable to don. The upper layer features stunning embroidery from head to toe, and the inner layer is plain, with a simple placket of buttons.

This sherwani needs little to no accessorizing — keep it simple with dark loafers and tonal pants and enjoy how on-trend yet timeless you look in this ideal cocktail outfit. Reserve this ensemble for a summer wedding of your dreams.
Indigo Loafers by Christian Louboutin
For grooms who don't want a top to toe indigo look, but want to incorporate hints of the shade in their neutral looks, these indigo loafers are your go-to pair. Shimmering velvet, a ribbed texture, and tassel details keep things fun and interesting, and the pops of red are a welcome addition that breaks up the deep blue.

Shoes can make or break an outfit, and the same norm stands for wedding styling for both the bride and groom. These red soles will enhance any ensemble, be it an ivory kurta or a matching indigo bandhgala, and grooms can wear these long after the wedding is over, too.
Blue Pocket Square by Zegna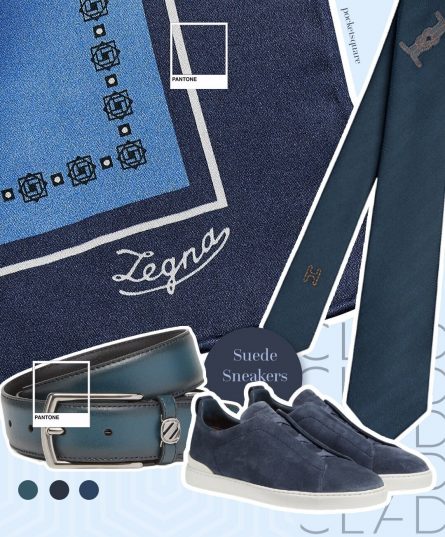 Accessories are as vital, if not more, as the clothes you choose for your big day. Pocket squares are the accessory of choice for the well-read groom — one who likes to look like a gentleman on his wedding. This blue on blue one by Zegna has the most subtle geometric print to grab a passing eye, and it looks dapper when folded into a sherwani or suit pocket.

There are countless ways to fold and tuck a pocket square, depending on the occasion and nature of your outfit, but grooms should learn a simple puff fold to make their accessory pop. We particularly love the different shades of blue that this square has going on.
Deep Indigo Tie by Hermes
Styling for grooms isn't just limited to Indian wear, and suits and tuxedos make for fantastic options for grooms having a Christian wedding or for formal wear at the reception party. A sleek suit is incomplete without a tie, and this self-printed indigo striped one is our top contender for an elegant night of socialising and fun.


Going vibrant for the tie is always an option, but at Clad, we love understated ties like this one which are versatile and easy to mix and match with any suit. The subtle Hermes motif in orange looks extremely polished, and the blue would look effortlessly amazing atop a crisp white dress shirt.


Grooms, now that you have a curation of the perfect indigo pieces to wear for your wedding, nothing can stop you from looking your dapper best on the big day, and all the functions in between. Contact Us to get a head-start on your wedding styling.



*This article was written by Fawzia Khan, Creative Features Editor at CLAD