Our Wedding Styling Packages
We specialise in styling brides, styling grooms, styling the couple, styling the family, putting together a bridal trousseau with personal shopping, and photoshoot direction for weddings in person and virtually, and even with a hybrid model. Our reach is unparalleled and we can be contacted here.
We want to help brides be their most beautiful selves on this special day. Tanya handpicks the most exquisite outfits which match the bride's personal style: we take care of everything from the ensemble, to customisations and accessories for every function.
Our grooms get personal, one-on-one attention from CLAD to dress them for their wedding, and personalised curations based on their unique style. At CLAD, we believe in spending time on groom wear — from curation, selection of accessories, coordinating designer appointments, customization, and delivery of outfits, we do it all.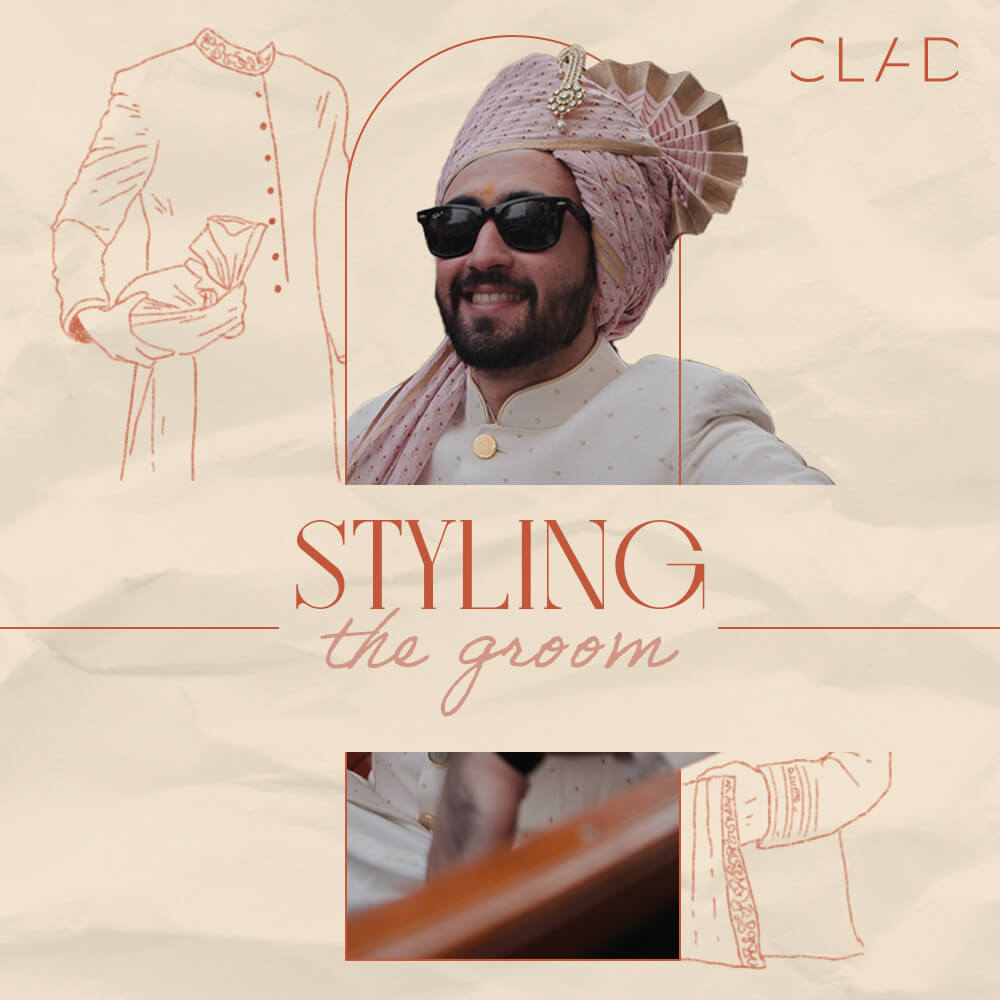 Two is always better than one, and the same stands for wedding styling. We understand that a special synergy is needed between the bride and groom on their wedding day, and all the functions in between. We can help with that. Let CLAD style you and your significant other in curated, complementary outfits for all functions.
Weddings are about unions and coming together. At CLAD, we love brides and grooms, and their families too, so styling them is naturally our next package. We can design beautifully cohesive looks for the entire wedding party for that picture-perfect mandap look.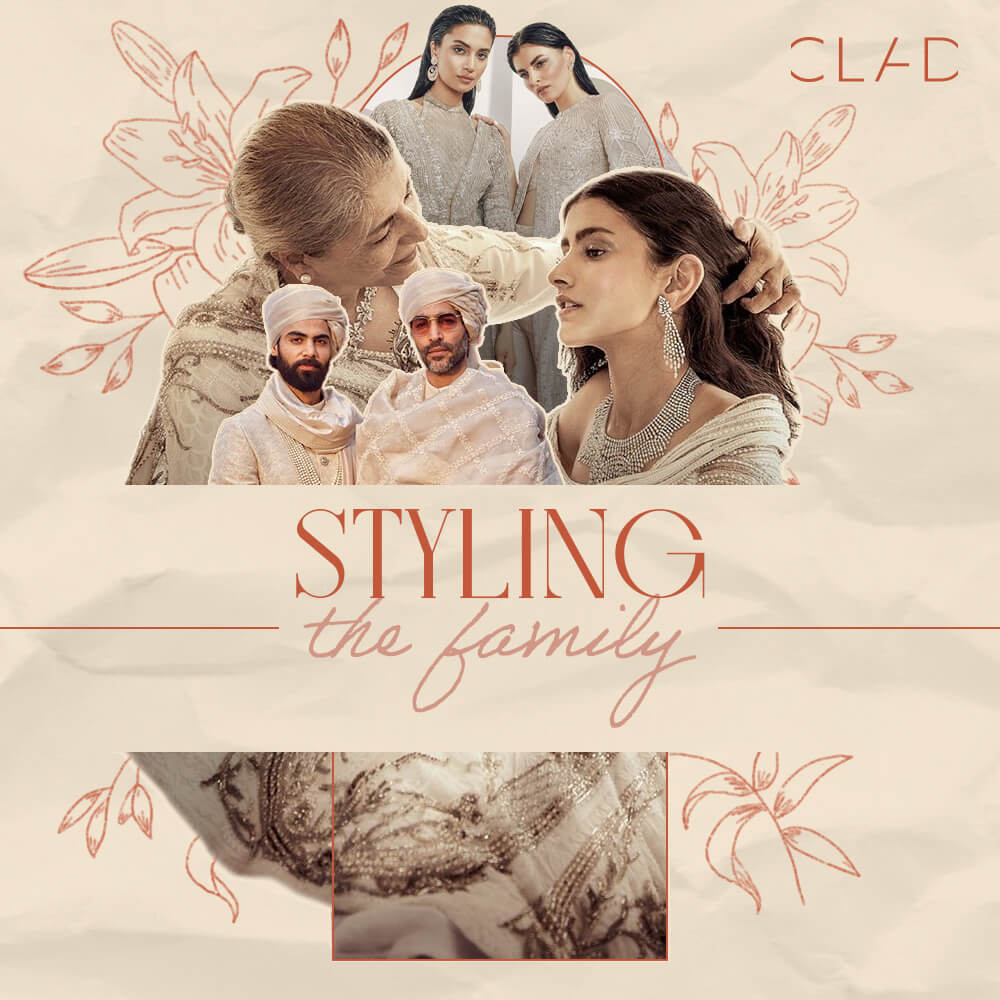 Personal Shopping + Trousseau
At CLAD, we believe that fashion should be timeless and should be repeated – let us help you mix and match your preloved buys with new ones for a refreshed wardrobe for every occasion. We build personalised packages to revamp your wardrobe for a whole new you. The bridal trousseau is a special tradition that we love seeing carried forward, andCLAD can help families and brides put together the perfect, customized trousseau.
Wedding Gifting + Favours
A wedding is nothing without the family and friends of the bride and groom being present at the festivities, and celebrating the union! Gifts are a great way to give thanks to your loved ones, and wedding gifting can often be one of the most fun but also most challenging parts of organizing a wedding, because finding the correct presents for every guest is quite difficult. Finding the right vendors, picking the right products that suit your guests' likes, customizing them, and coordinating deliveries is no small task, so let CLAD handle it all for you.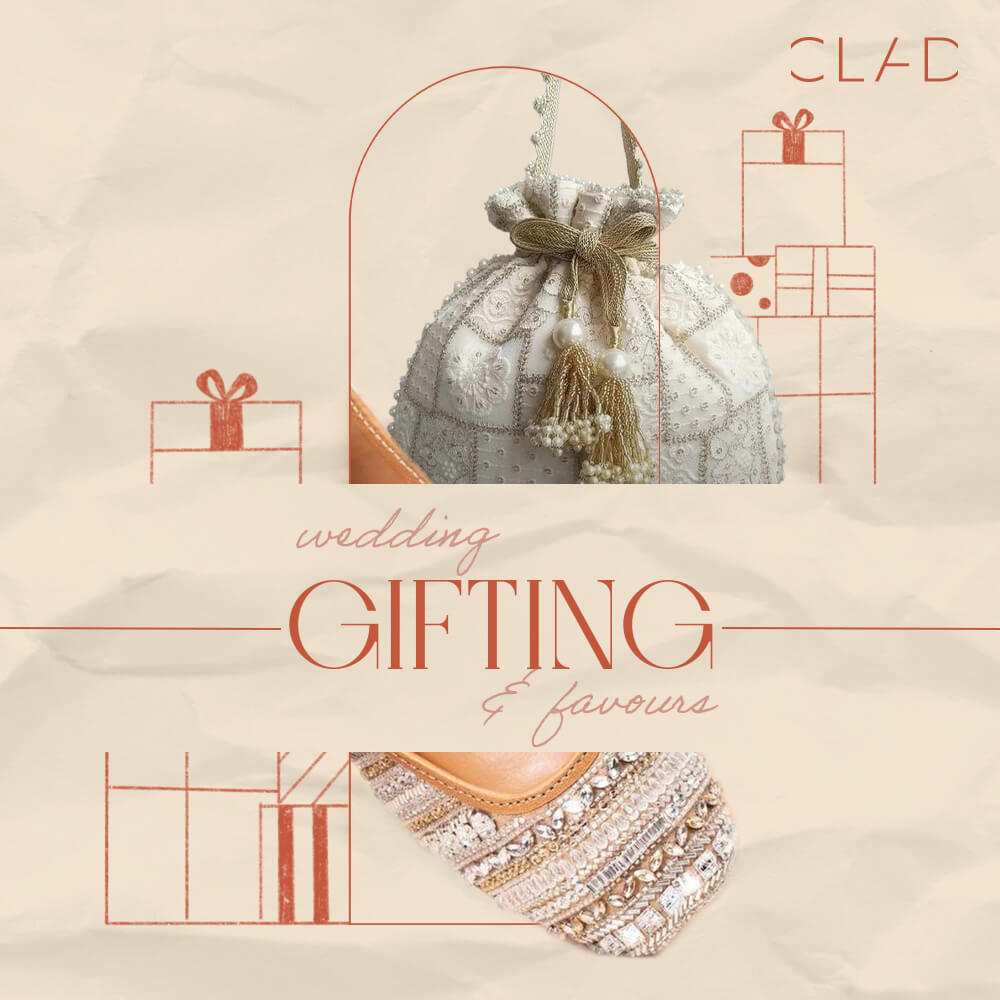 Photo Shoot + Moodboarding
Did a wedding even happen if there were no photos? With Tanya's decade -long editorial experience at GQ magazine, CLAD can conceptualise pre-wedding and wedding portrait photoshoots for its brides and their grooms too. They can hire their own photographers whom we will brief, or they choose from CLAD's network of fabulous talent.