How To Style Your Bridal Dupatta Fabulously
Dupattas play a huge role in the bridal outfit that she wears on the big day, and gone are the days when it could be styled over the head only. As bridal wear has evolved, so has the styling and draping of the dupattas, taking on fantastic forms with numerous nips, tucks, pleats, and trails.

Brides are no longer restricted to only one dupatta per outfit, she can drape herself in one, two, or even three stoles if she has a certain silhouette in mind. Many of these styles depend on the kind of fabric, embellishments, size of the dupatta, and the physical qualities of how it looks when draped a certain way. So, before a bride finalises her wedding look, it's imperative that she thinks about how she wants to don the beautiful dupatta, and then zero down on what kind she wants. Brides, don't dismiss the power of this simple garment, as it can change the entire vibe of your wedding dress. Read on to learn some of our favourite bridal styling techniques with the ubiquitous piece of fabric.
Capes have been all the rage in bridal wear in the past few years, so why not extend the style to your bridal dupatta too? Pin the dupatta on the high points of your shoulders, and let it cascade down the sides, jacket style. This draping style will work best with a structured wedding lehenga or sharara.
Single Dupatta Draped Gujarati Style
There's plenty to borrow from the Gujaratis, and their pleated and flared dupatta style is first on our list. Tucked in the back, the dupatta, usually heavily embellished, is pleated carefully like a sari and laid down the front of the bridal dress, like a sari.
Two Dupattas Draped Over The Body And Head
If one dupatta doesn't do the job, a bride can go with two dupattas to add some drama to her wedding day outfit. The first one is draped over her head as usual, and the second one can be draped across her chest to accentuate the form and fit of the gorgeous lehenga she's in.
Several brides don't like conforming to draping fabric over their heads, and there are several options for them too! A shorter, stole-like dupatta can be draped in the crooks of both elbows for a chic look, with a hint of old world glamour.
Two Dupattas Over The Head And A Single Shoulder
For a regal feel, opt for two dupattas, and layer them carefully: one dupatta will drape over the bride's head and fall down the front or back, and the second lehenga will hang loose on one shoulder. This is a great way to create an illusion of a heavier outfit if your bridal lehenga is more minimal.
Stole Style And On One Shoulder
For fans of the dainty stole draping style, this technique can be elevated by draping the bridal dupatta on one shoulder, and letting the other end lie in the crook of your elbow. A wedding stylist will be able to help best with what suits your outfit the best.
Single Dupatta Draped Pakistani Style
Pakistani brides drape their dupattas in a beautiful U shape around their yoke, and then cover their heads with the same. These dupattas are usually diaphanous materials like net and organza, but feel free to choose a dupatta that fits your bridal style best. A polki passa will elevate this dupatta style greatly.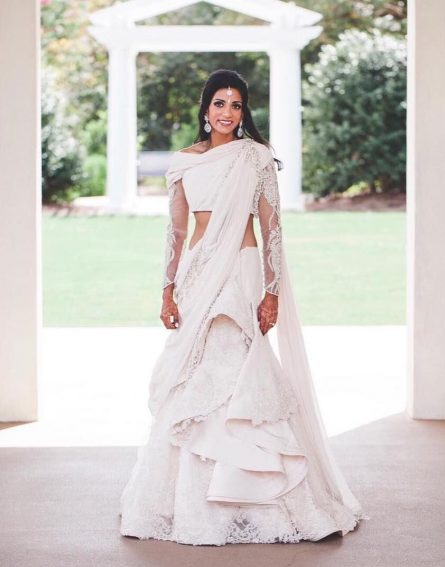 Nothing is quite as elegant as the sari pallu, so emulating that style in your bridal lehenga is a win-win. Take help of your wedding stylist to tuck and pin the dupatta in the right places, and then throw it over your shoulder for an instant dose of timeless grace.
Single Dupatta Over The Head
Who says a bride needs to get into complicated folds and tucks for the big day? Not us. For the fuss-free bride, the best route to take is a simple yet effective drape over the head, which hangs loose on either side. The effect this deceptively simple look has is quite dramatic, and makes for a fierce bridal entry.
New trends infiltrate the wedding market everyday, and the belt has made its presence felt hugely in bridal dresses and Indian occasionwear. A slim dupatta can be worn over one shoulder, and cinched at the smallest part of the waist with an embellished belt which matches the rest of the outfit. This gives a structured and polished look to the bridal lehenga.
At CLAD, we're fans of keeping it simple yet classy, and this style is one of our favourites. A scalloped dupatta, or one with heavy embellishment or stunning threadwork deserves to be displayed in its full glory, so we recommend pinning it to one shoulder, and letting it flow down the length of one side of the lehenga.
Brides, if extremely sheer net, lace, or organza dupattas are making their way into your lehenga or sharara, consider wearing it over your head, uptil your waist or even below that like a veil. It's a beautiful look, and definitely a different one. When accentuated with a flower crown, you'll look like a queen.
Single Dupatta In A U Shape
Considered a casual way of wearing a dupatta, the classic U shape across both shoulders in the front never fails to impress. There is an aura of grandiosity and effortlessness in this method of setting the bridal dupatta, and we love how it looks with ivory outfits.
Choosing how you want to drape and arrange your bridal dupatta is exciting, but also confusing with the sheer number of options available. Sometimes, even the pinterest boards won't be able to solve your conundrum. Contact CLAD for our comprehensive wedding styling services which include both the bride and groom.
*This article was written by Fawzia Khan, Creative Features Editor at CLAD