Irresistible Indian Wedding Dress Ideas for the Bride's Sister
If you thought being a bride was tough enough, try being the bride's sister. Building a bridal wardrobe is a lot of work and only the most stunning options figure into the lady's wardrobe, but putting together looks for the bride's sister is a challenge too. The bride tends to share some of the spotlight with her sibling, be it young or old — so wedding guests will be looking closely at them too. Besides this, sister dearest can't outshine the bride, but still has the onus of developing her own unique aesthetic. Talk about a catch-22.


The good news is that a wedding stylist can sort you out. Along with giving you a curation of the best looks, they will make sure that your outfits complement the bride's but that they also look distinct enough to be yours. At CLAD, we love puzzling over each client's individual style, but these are some winning looks that would look great on anyone — sorted by occasion. Bride's sidekick: you may thank us later.
Bright colours are the name of the game for the mehendi ceremony. So, minimise on the sparkle and shine and opt for vibrant hues that'll add to the happily bucolic atmosphere of the day function. A lehenga is always our top choice, and this tropical set with matching blouses by Kshitij Jalori is just stunning. For pastel lovers, the green and pink one makes for a winning look, and the magenta and orange is perfect for lively spirits.

Conversely, sisters can choose more experimental silhouettes like this billowing blue look: we adore the single shoulder drape and the asymmetric skirt by Anita Dongre. A polished yet unique lehenga is a must-wear for this joyous function.
Song, dance, drink, and pure celebration: the sangeet ceremony calls for dazzling metallics, but with a twist. Gold and silver outfits, or metallic embellished outfits are the norm, and we recommend picking slightly different silhouettes which aren't your run of the mill lehenga or sharara.

Faraz Manan's creations are exquisite: note the floor length jacket with the gilded lehenga and the sleek silver kurta with the Art Deco inspired sharara. The cascading lengths add some drama to your sparkling look, and will definitely turn heads all night long. The best part? The easy forms will let you move and dance for hours, all while feeling your best self.
No two weddings are the same, and every nuptial is peppered with more intimate ceremonies that are unique to each family, in between the main ones. Sisters are almost always a part of these smaller functions too, and it's best to keep it pretty but understated for these occasions.

This cyan lehenga by Abhinav Mishra is absolutely delectable. We love the distinctive shade and the hints of mirror work which add some shimmer to the look. The kurta style blouse is super trendy and looks graceful too. This youthful, summery look gets our stamp of approval
As a wedding styling service, we keep in mind every single function. You may have forgotten it, but we remember the welcome dinner. A time for the wedding guests to meet and mingle before the actual wedding, this convivial event can do with a formal outfit like a sari, or a pre-draped conceptual one but it needn't be too weighty.

This cherry-red Punit Balana creation is a great example of the type of look the bride's sister can rock for this one. Pre-draped for ease of wear, the swirling satin-silk sari features a striking marodi and dabka work blouse. The pallu is organza silk, and a cutwork belt cinches the waist really well. Deeper hues and unconventional silhouettes would work best here.
After the couple, all eyes are on the sisters of the bride on the big day. Opt for a heavily embellished lehenga, in either pastels or ivory. If baby pinks, peaches, sky blues, and seafoams appeal to you, these frothy Abhinav Mishra lehengas are just the pieces for you. Adorned with head to toe mirror work so you shine on the day your sister marries, we love the encrusted blouses and dupattas too.

Some sisters prefer timeless ivory for their wedding outfits, which would also provide great contrast if the bride is wearing red or other bright hues. This queenly Sabyasachi creation is a delightful melange of neutrals and gold, with fine gold work and fringe detailing. The diaphanous dupatta is lovely too, and this look is the perfect one for the sibling.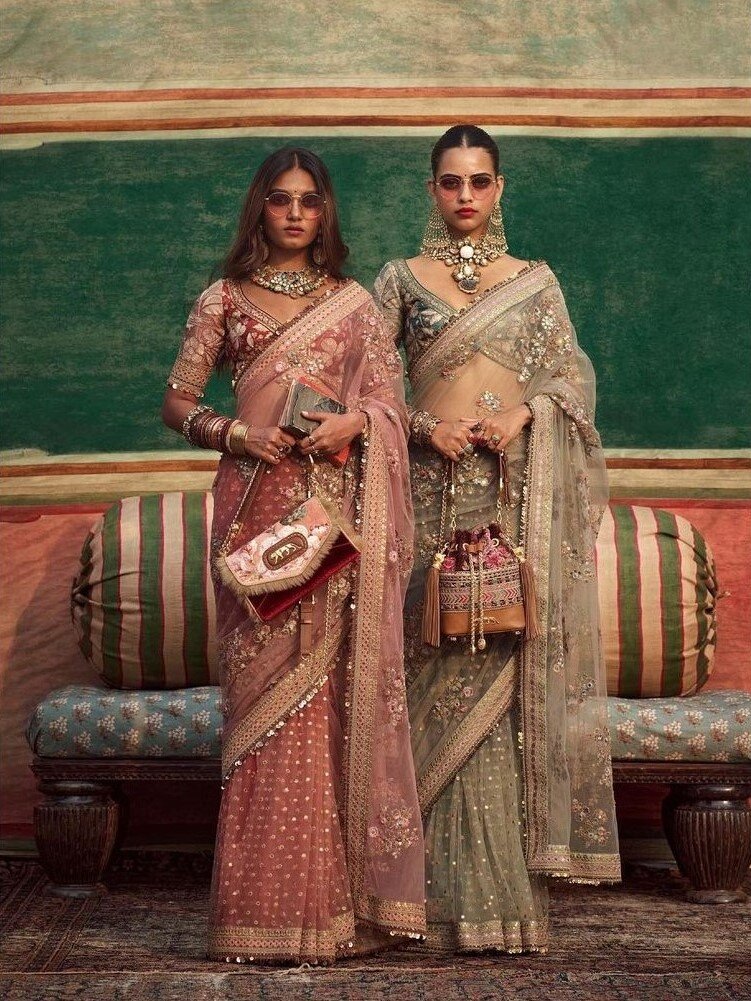 Ah, the closing function of a riotous wedding celebration, and the first time the bride and groom celebrate after being wedded. Receptions are exciting, and a lot less rigid than the actual wedding. This one's a party, so even bridesmaids can pull out their glitziest looks to celebrate with their sisters!


For ultimate elegance, pick this elegant chikankari lehenga by Tarun Tahiliani. The skirt is decorated with skilled chikankari work, and kasheedakari ornaments the spaghetti tank blouse. The colours on this piece are just gorgeous, and the sister who loves understated sophistication would love this one. For a bejeweled, floral feel, choose one of these opulent Sabyasachi saris with embellished sheer pallus, a chintz-y blouse, plenty of sparkling sequins, and rich earthy colours. Go all out on the accessories, and you're ready to party.


Wedding styling can be overwhelming, especially for the family. CLAD services brides, grooms, their families, their friends, and anyone else from the wedding party. For a sartorially consummate wedding, contact CLAD and we can get started on packages tailored to your wedding's unique needs and for our wedding styling services.


*This article was written by Fawzia Khan, Creative Features Editor at CLAD