CLAD couple Rekha and Akshay sit down, post the wedding festivities, to let us know how having our specialized wedding styling helped them plan out their big day, seamlessly.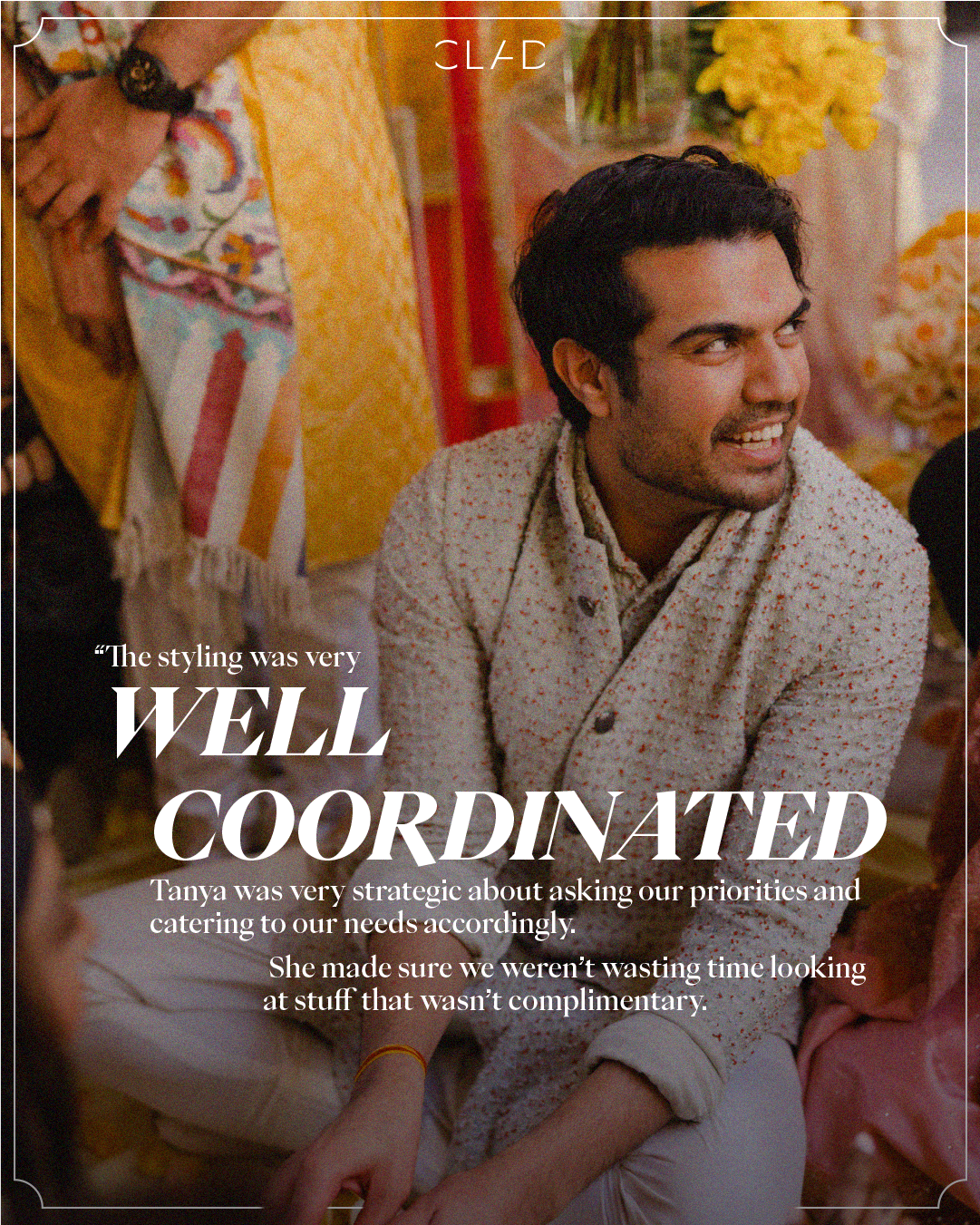 What was your experience like with Tanya and CLAD?
My experience with CLAD was fantastic! I was unable to go to India to pick out my outfits because of COVID, and so I decided to work with a stylist for my wedding. It was the best decision! What initially struck me about Tanya was how she is so talented, but also so down to earth. During the process I honestly felt that a family member / sister was doing my styling for me. I loved how knowledgeable she is about Indian clothes. Tanya was always very well prepared for our meetings showing us powerpoints with options of outfits that she had hand selected for us. She was always accessible and responsive (even at odd hours!). And she was on top of where all the outfits were in the manufacturing process and their delivery times. We didn't have to worry about the outfits coming on time because we knew Tanya was taking care of it! Tanya was also very involved in the hair and makeup and helped me tie my entire look together.
What was your favourite part of the styling process?
My favorite part about the styling process was customizing the outfits. Tanya is so well connected with designers that we were able to do customizations to make the outfits especially for me. For Annamika Khanna we changed the color and altered the embroidery lay out and I loved my outfit even more than the original! For Arpita Mehta we added gota work to the outfit to make it have more of a "mehendi" look.
Tell us about your jewellery curation and what made the selection easy?
Tanya has fantastic contacts for both semi-precious and precious jewelry. Tanya sent her contacts pictures of my outfits ahead of time and we did zoom calls to see the jewelry. Tanya and her mother have a great eye for jewelry and we were able to lock down the jewelry for all of my 7 looks in just a few zoom calls! We had so much confidence in Tanya and her contacts that my mom and I both bought precious jewelry from India without even seeing it in person. I absolutely love how all the jewelry has come out!
How smooth was the virtual process, since you live overseas?
The virtual process was very smooth. Tanya was very accommodating to our schedules when scheduling calls with herself or designers. She personally had a list of all our measurements which she continuously cross checked with the designers and in many cases she had muslins of the blouses sent to me. I think this is the reason our outfits fit so well! All our outfits came in time or ahead of time thanks to Tanya managing the process and having great relationships with the designers. We liked the process so much that my entire family (mom, dad, sisters, brothers and little nieces and nephews) ended up ordering many of their outfits through Tanya
What was the best outfit, according to you?
I loved all my looks, but my favorite outfit is the corset saree from Tarun Talhani. Tanya recommended this outfit and I instantly fell in love with how elegant and unique it was. She picked out a beautiful choker necklace and pair of drop earrings to go with it.  
How coordinated do you think the styling was for the bride and groom?
I thought the outfit coordination between the bride and groom was perfect. I did not want me and my husband to be super matchy matchy, but for both of us to complement each other while holding our own. Tanya did just that for us!.
How important was it to take the venue and decor into account while curating outfits?
Keeping decor and venue in mind is critical when picking out outfits. Tanya researched images of my wedding venue beforehand and suggested only outfits that would look good in the venue and at the time of year that I was getting married. We then coordinated the decor around the outfits and the whole look came out beautifully!
What was your experience like with Tanya and CLAD?
Our experience with CLAD and Tanya was truly exceptional and beyond expectations! Tanya was extremely helpful in piecing everything together and helped us with every aspect of the wedding. She went out of her way to make suggestions on everything relevant to the wedding- not just styling. She was a great support system considering we started the wedding planning relatively late. She was reassuring and made sure all our outfits were delivered to us well in time. Having Tanya by our side was like having a family member who was constantly pushing to get things done in a timely fashion. She was always available and easily approachable even at odd hours which made our experience stress free. The designers and the outfits that she recommended were all top notch. And I was amazed to see everything materialize so smoothly without us having to travel to India. 
How smooth was the virtual process, since you live overseas?
I was initially very skeptical about the virtual process but Tanya was very confident and re-assured us. We trusted her and I have no regrets. The outfits were exactly how they were shown to us. We got a good sense of how they would look on us. She was able to get the designer team on zoom. Muslins were sent to us for trials which I thought was great considering that we weren't able to travel to India for measurements. The process was hassle free and saved us a lot of time and energy! If I were to do it again (hopefully not 😉 I would do it the same way with CLAD and Tanya. 
What was the best outfit, according to you?
I loved all the outfits! It's really hard to pick one. Each outfit was perfect for the occasion and complemented the bride's outfit well. 
How coordinated do you think the styling was for the bride and groom?
The styling was very well coordinated. Tanya was very strategic about asking our priorities and catering to our needs accordingly. She made sure we weren't wasting time looking at stuff that wasn't complimentary. Once Rekha's outfits were finalized, she was able to quickly shortlist options for me that would go well with her outfit (as per my request). She was very respectful of our time and made sure calls with designers were scheduled based on our convenience. Tanya never imposed but at the same time was very frank/critical about stuff she didn't like or thought would not look good on us. I really appreciated that clarity- it helped us to pin down the final outfits without second thoughts. Thank you so much Tanya for being there for us through this journey and making our experience truly a pleasurable one!
Styling: @clad.clad
Photography: @milighosh
Makeup: @cherishbrookehil
Hair: @owengould
Decor: @prashe
Mehendi: @hennaartbyhiral
Draping: @karunachani
*This interview was written by Fawzia Khan, Creative Features Editor at CLAD