The Best Colours For Your Bridal Lehenga
Inarguably, the best aspect of planning a wedding is choosing the outfits. Indian weddings are full of various functions, so brides and grooms both have plenty of occasions to fulfil their desires to wear kurtas, shararas, sherwanis, saris, and more. While it may be easier to decide what to wear for the roka, engagement, mehendi, and sangeet, to dress for the wedding day is a whole other story.

For brides, picking the lehenga for the big day is a big deal, and understandably so. The wedding market is flooded with styles, fabrics, silhouettes, embellishments, designers, and most importantly — colours. Brides who are pondering whether to stick to a conventional red, or a new-age pastel or jewel tone, we have a handy list of great colours that you can choose from. Lots of facets, like the weather, the location, and your personal sense of style plays into choosing a suitable colour for your bridal lehenga, and a wedding stylist can help you the best with this. In the meantime, here are our favourites.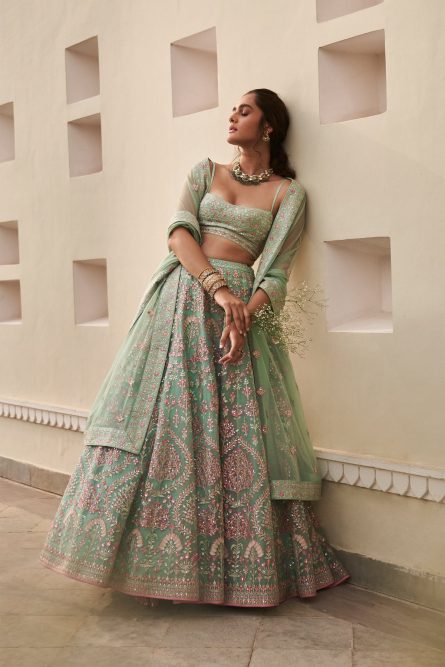 A colour that's becoming a fast favourite with brides who love pastels with a pop, seafoam is a great choice to go with for summer weddings. Just like this Anita Dongre creation, seafoam lehengas are usually embellished with rose gold embroidery, which contrats really beautifully with the unique green lehenga
Light blues of any sort, be it baby blue, icy blue, or powder blue, add dollops of grace to the sophisticated bride's look. Blue and silver, like this gorgeous Rahul Mishra ensemble, is a classic combination, and for lovers of diamond and platinum jewellery, this coloured lehenga is the ideal choice.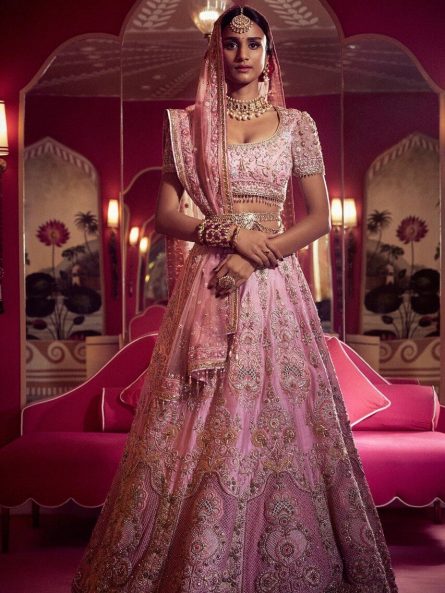 This hue is a bridal favourite, and with good cause. The soft pink is the closest it gets to red without actually donning the crimson colour. A pink bridal lehenga will look beautiful no matter what time of the year the wedding is, and you can drape your bridal dupatta in an interesting way to elevate the pink look.
Nothing gets better than a traditional red lehenga. Ritualistically, a bride should don a red one on the day of the wedding, and there is no greater feeling than sticking to the old ways sometimes. Sabyasachi is a master at creating stunning red and gold looks, with a blend of Indian craftsmanship and his impeccable design.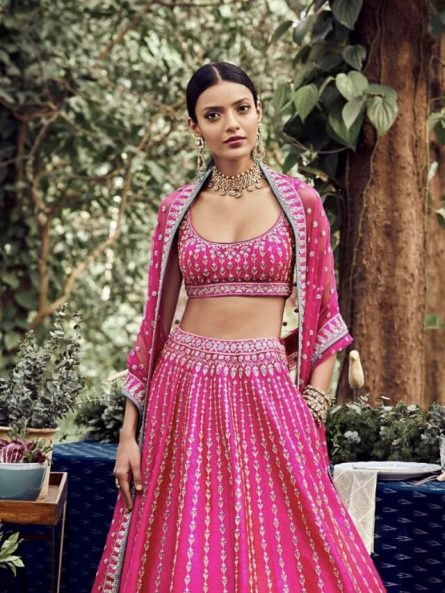 So, pastels aren't your cup of tea, but vivid colours sure are. Our personal choice would be a bright and full-bodied pink lehenga, with which you can wear a dupatta in the cape style. The best way to accessorize this lehenga is by wearing contrasting coloured gemstone jewellery to keep things interesting.
For the classic-loving bride, an ivory bridal ensemble is the way to go. The neutral lehenga with gold work on it is an easy, polished look for anyone who doesn't like loud colours. This Manish Malhotra masterpiece is a great example of an ivory lehenga with intricate lace work, mirror work, and bead work. Ivory chikankari is also a hugely popular choice in ivory bridal lehengas.
The softness that peach imbues into your bridal style is effortless and inimitable. It's a beautiful pastel which goes well with floral applique detailing, as well as metallic threadwork. This french knot-featuring Anamika Khanna lehenga is just sublime, with both of the above mentioned embellishments combining seamlessly.
Before you reject beige as an "old" colour, consider how many design doors it opens in your bridal lehenga choice. The most obvious choice would be to pair it with gold like this Tarun Tahiliani piece, but a beige lehenga can have embellishments in colours like pink, green, red, blue, and any other hue imaginable, since it's a neutral. For a stand-out look, pick a beige lehenga with contrasting or tonal colours on it.
Gold is a great option to wear instead of conventional red, since it has all the pizzazz of a bright scarlet lehenga. For ladies who enjoy shining bright, these Abhinav Mishra lehengas, replete with mirror work, sequins, and thread work are a must-have. There are innumerable gold options, with shimmering fabrics and traditional embroideries as well.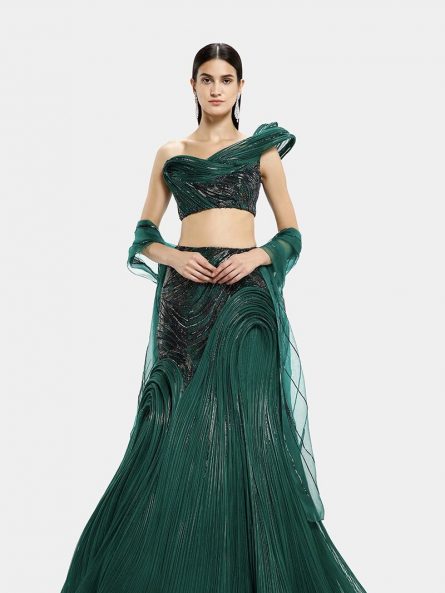 Elegance personified, this emerald green lehenga by Gaurav Gupta is opulent and fit for a queen. We love the amalgam of fluidity and structure that it creates, and the illusion of movement it creates with the clever use of green and black stripes. The one-shoulder blouse is new-age, and so is the stole-like dupatta. Jewel-tone brides, this one will make your heart sing.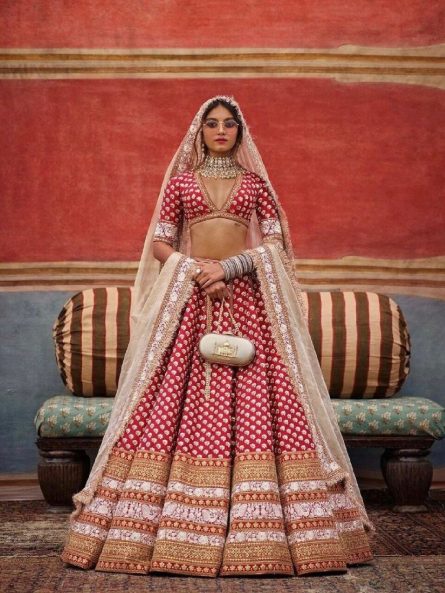 Rich maroon hues, indulgent fabric, and gold embellishment that is second to none: traditionalists would love this colour for their bridal lehengas. Sabyasachi provides inspiration with this regal ensemble, with a contrasting dupatta and intricate handwork. A winter wedding would call for a maroon lehenga in warm, soft velvet.
If Art Deco is your inspiration for your bridal lehenga, nobody does it better than Faraz Manan. This glistening metallic piece features a peplum blouse with a mock sweetheart neckline, and a full skirt chock-full of silver embellishment. A silver lehenga will definitely make heads turn on the big day, and you'll shine like a beautiful mirrorball.
A relatively newer trend in bridal lehengas is sporting bright mustard yellows. Earlier reserved for only daytime functions like mehendi and engagements, brides are now exploring the wholesome shade, like this yellow and gold Manish Malhotra lehenga. Bright summer weddings in the great outdoors are perfect for this colour.


With all this colour inspiration, brides should now have an easier time picking the colour of their lehengas. No matter what colour you choose, a bride's happiness and confidence is her best accessory, so be sure that what you pick makes you happy so you look your best on your wedding day. For more personalized curations, contact CLAD for our bespoke wedding styling services.


*This article was written by Fawzia Khan, Creative Features Editor at CLAD