The Most Unique Sherwanis For The New Age Groom
Between the couple, it's always considered the hardest to shop for the bride, however, groom shopping is equally important and equally complicated too! In fact, limited silhouettes, fewer options in shapes and form and some conventional groom outfits make it harder to think out of the box and choose outfits which aren't run-of-the-mill stuff.

Thankfully, groom wear has been evolving a lot, mainly because of the hard work by several designers who want to push the envelope and offer something unique and exciting for men to also look forward to on their wedding day, and for every function in between. Here are the most distinctive sherwanis for men's wedding styling that a modern groom can choose for his big day.
This creamy silk sherwani is for the groom who likes classic styles, but with a little twist. We love the quintessential silk look, and neutrals always look extremely polished, but the multi-hued threadwork adds some fun and lightheartedness to an otherwise formal attire for the sophisticated groom.

Pair this sherwani with a tonal kurta inside, preferably in silk, and churidar bottoms that match. The all cream look is perfect, but feel free to pick one of the pastel colours in the embroidery on the sherwani and wear an inner kurta or pants of that same hue.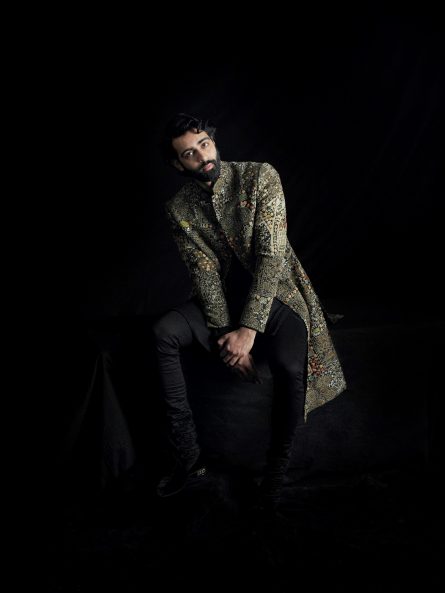 Vibrant and intricate threadwork on black will be a winner if done well, and Anamika Khanna aces the floral sherwani trend with this indulgent ensemble. The designer likes her silhouettes to be classic, but the embellishment on them can be cool, new, and edgy, just like this piece.

Accessorising this piece can be kept minimal, so the rich embroidery can take center stage. Keep bottoms and kurta an inky black colour, and pair with black chelsea boots to add a slight modern twist to this sherwani which is the perfect blend of Indian handiwork and modern design concepts.
As wedding stylists, we love indigo. The colour is deep, rich, and regal, and can be paired in so many versatile ways, and this sherwani is a great example of how good a brighter indigo can look on a new-age groom.

The contrasting rainbow hued button add some youth and personality to the sherwani, which is tailored from fine khadi — a great option for wintry wedding days and for the sangeet before you dive into married life. A contrasting pocket square adds to the appeal of this outfit and a black churidar would complete the ensemble well.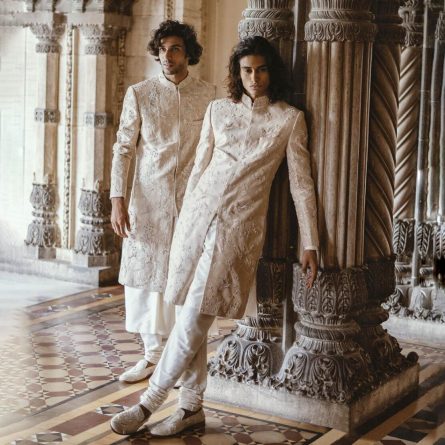 Vintage appeal drips off of these sherwanis by couturier extraordinaire Gaurav Gupta. Nature inspired embroidery is always a gorgeous addition to any groom wear, and we love that these sherwanis let grooms wear florals without getting too loud.

Champagne and ivory are quintessential colours for a groom, and it's hard to go wrong with them. Keep everything else in the same colour palette, which means the kurta, bottoms, and other accessories can range from ivory to gold. This sherwani is perfect for the wedding day, but is also good for a reception.
Always a pioneer in menswear, Kunal Rawal creates yet another cream creation with tonal highlights which look subtle but decorative for the minimalist groom's taste. An arrow knotted pattern adorns the length of the sherwani, and the embossed detail makes for an interesting play of light and shadow on the neutral sherwani.

This fabulous piece is ideal for an engagement ceremony or the big wedding day too. For grooms who eschew glitter and shine, this is the right choice, and tonal cream pants and a kurta, with tan loafers would make for a great combination.
Who says pink is just for girls? Sport this delicate pink hand embroidered sherwani by the inimitable Rahul Mishra for your big day and watch as heads turn. The grandiosity of the sherwani lies in the glistening hand embroidery, inspired by the traditional wall paintings of Mandava.

The embroidery takes these traditional shapes and reimagines them on the piece. The diaphanous organza dupatta adds the air of regality to the outfit, so you look like the king that you are on your wedding day.
Rohit Gandhi + Rahul Khanna
Many grooms love the idea of a deep navy blue sherwani, and Rohit and Rahul nail it with this full-bodied shimmering sherwani. Rich gold zari work embellishes the whole sherwani in geometric and floral shapes, and matching blue pants complement the sherwani perfectly.

The construction and design of this sherwani is what sets it apart. It fits perfectly and will suit several body types. Pair this with a contrasting safa, a kalgi and a groom's necklace for the full groom look.
For a heritage feel to your groom's look, pick an unexpected bright shade like this mustard look by Sabysachi, and go all out on the accessories — after all it is your big day! We love the gold and yellow combination here, and the seafoam accents on the groom dupatta complement the sherwani beautifully.

Set off the heavy jewellery, rings, and embellished sherwani with a surprising ivory silk safa just like the one in the image, and be the prince of the ball.
A medley of amazing texture, patterns, and form at play, these sherwanis by Tarun Tahiliani are adorned with traditional chikankari embroidery, with a printed textured base and kasab highlights all over. Chikankari is inspired by the Mughal architecture of Itmad-ud-Daulah.


The intricate motifs on the sherwani are hand painted by skilled artists and then hand-embroidered in traditional chikan stitches and further layered with sequins and petals on silk tissue georgette. All styles are finished meticulously with hand sewn crystal drops and pearls hanging off them. Pair the beige sherwani with a peach or blush pink palette of colours in the kurta and churidar for a polished look.


With these distinctive sherwanis to choose from, the modern groom can very easily choose which route he wants to take: classic, vintage, metallic, or go all out in regalia. To make things easier for groom styling and for the family too, contact CLAD to hear about all our packages.


*This article was written by Fawzia Khan, Creative Features Editor at CLAD